The Insurance Division aims to maintain affordability and availability of insurance for Vermonters while certifying that insurers can meet their contractual obligations; it ensures reasonable and orderly competition within the industry and protects Vermont consumers against unfair and unlawful business practices. 
Deputy Commissioner Emily Brown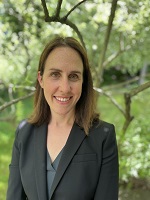 Governor Phil Scott announced the appointment of Emily Brown as Deputy Commissioner of Insurance in July of 2022.  Deputy Commissioner Brown previously served as the Director of Insurance Regulation at DFR, focusing on health care policy and insurance coverage issues. Ms. Brown led analysis resulting in the addition of hearing aid benefits to the Qualified Health Plans in Vermont and currently leads several initiatives examining the health insurance industry throughout the state. Before joining the Department, she clerked at the Office of Legislative Council and continues to serve as a subject matter expert for health insurance legislation. Ms. Brown received a bachelor's degree in political science from New York University and a Juris Doctor from Vermont Law School. She lives in Moretown with her husband and two daughters.
---