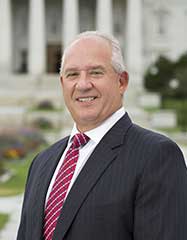 The Securities Division administers Vermont's "Blue Sky Laws" contained in the Vermont Uniform Securities Act, 9 VSA Chapter 150 (Securities Act). The Securities Division is responsible for protecting Vermonters from investment fraud and promoting the development of Vermont's capital markets by: 
Reviewing and registering securities offered to Vermont investors and where appropriate granting registration exceptions to facilitate capital formation;
Registering Broker-Dealers, Investment Advisors, and their agents and representatives;
Conducting regular financial examinations on investment professionals;
Responding to investor complaints and investigating potential violations of the securities laws;
Bringing administrative or civil actions against violators of the securities laws;
Educating Vermont investors, industry participants and businesses about securities laws; and
Updating securities regulations to keep pace with evolutions in the industry.
Website Under Construction
Our website is still under construction. We appreciate your patience while we continue to update our content. Please contact the Securities Division directly if you have questions or need help. Contact the Securities Division at 802-828-3420 or dfr.securitiesinfo@vermont.gov.